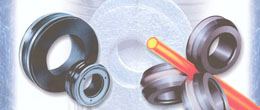 Report for installation and using Cemented carbide roll ring
A.installing parameter
water pressure for cooling approx 5mpa(50kg/cm2)
finishing line speed. 45m/sec
beforeentry mill the semi-prdduct size is 21.5x19.5mmØ
the finishing product temperature is 970~1030°C
the tolerance of carbide roll is 0.015mm
pre-pressure of the roll for installation : about 235kg/cm2
B.using parameter
Can rolling hi-Mn electrode wire rod 5.5Ø 980 TON/DAY plus common carbon steel wire rod 308 TON/DAY Continue rolling five days 2088 ton/one groove(APPROX)
C.grinding and repair roll
Using eyes see the wearing surface is normol. And a light, Condition. The re-grinding only 0.28mm. From. 155.58mmØ->155.30mmØ
D.conclusions
Comparing with common roll. The productivity More high 100% can reduce the roll change Schedule. For save plant cost 50%.
E.flow process of carbide roll, Raw material -> Mixing and adhesive -> Hot sintering and press -> Fabrication -> inspection -> packing
F.technical preformance
G.pls choose the right material. And send Your drawing for us also we can design what your need. We are reply very soon and thanks Your support.